Finest Law Firm Winners Selected by the Burton Awards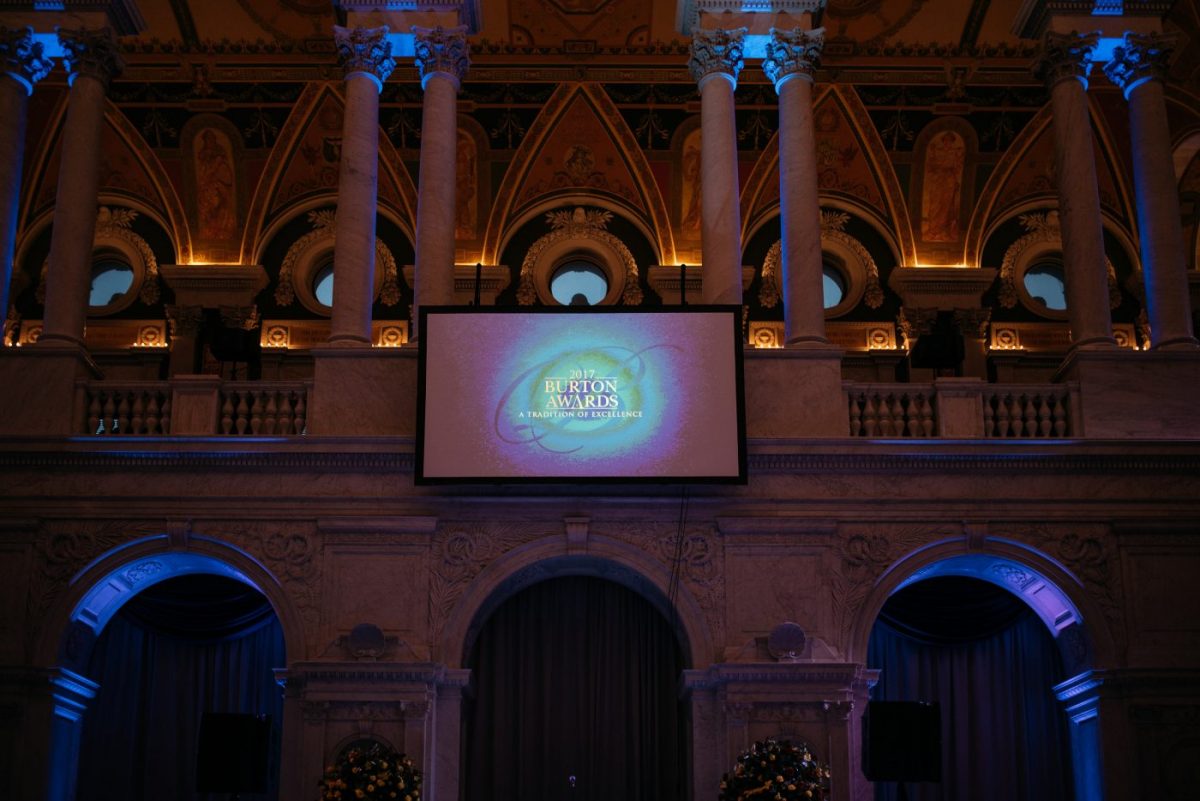 FOR IMMEDIATE RELEASE
March 22, 2017
New York, New York: The finest law firm writers of 2017 have been announced by the Burton Awards, a non-profit program, which is run in association with the Library of Congress, presented by lead sponsor Law360, and co-sponsored by the American Bar Association. The 25 winners, who will be presented the "Law360 Distinguished Writing Awards" on May 22, 2017, were chosen from the nominations submitted by the nation's top 1,000 most prestigious and largest law firms.
The Academic Board, which reviewed articles published within the past year, was led by Virginia Wise, Chair; Jeanne Merino, Stanford Law School; Lindsay Saffouri, UC Berkley School of Law, William C. Burton, author and founder of the event; Judge Edward Forstenzer, Superior Court of California (retired); William Ryan, member of the Department of Homeland Security and former Chair of the White House Plain Language Committee.
The award ceremony will be celebrating its eighteenth anniversary at the Library of Congress, followed by a reception, dinner, gala and performance by comedian and impressionist Darrell Hammond. This year, U.S. Supreme Court Justice Ruth Bader Ginsburg will receive the "Book of the Year in Law Award" for her work, "My Own Words." During the program, the Justice will be interviewed on the impact of her book.
The honorary and distinguished members of the Burton Awards Board of Directors include the following leaders in law: Former Chief Judge Richard Posner, 7th Circuit U.S. Court of Appeals; Judge Alex Kozinski, 9th Circuit U.S. Court of Appeals; U.S. Senator John Cornyn; U.S. Senator Robert P. Casey, Jr.; U.S. Senator Mike Crapo; U.S. Senator Michael F. Bennet; Supreme Court Justice Carol Corrigan of California; Yabo Lin, Partner, Sidley Austin LLP; Jane Sullivan Roberts, Partner, Major, Lindsey & Africa; Lisa Rickard, President, U.S. Chamber Institute for Legal Reform; Elissa Lichtenstein, Director, Public Services Division, American Bar Association; Thomas L. Sager, Partner, Ballard Spahr LLP; Les Parrette, Senior Vice President, General Counsel and Compliance Officer, Novelis Inc.; James M. Rishwain, Jr., Chairman Emeritus, Pillsbury Winthrop Shaw Pittman LLP; Betty Whelchel, Head of Public Policy & Regulatory Affairs, BNP Paribas SA; and Stephen R. Mysliwiec, Partner, DLA Piper LLP (US).
Law360, a LexisNexis company, serves as the lead sponsor of the Burton Awards and the distinguished writing awards.
"Clear, compelling writing is an essential tool for all lawyers," Law360 General Manager Scott Roberts said. "Law360 is proud to be associated with these awards, which recognize the best of the best writers in the legal profession. We salute all of the winners and commend them on demonstrating these talents and sustaining such high standards of written excellence."
The 2017 Law Firm winners are:
| | | |
| --- | --- | --- |
| Law Firm | Author(s) | Article Title |
| Alston & Bird LLP | David A. Brown, Theodore "Ted" Schroeder, Valerie Delp | What Corporate Boards Need to Know Before Wading into Politics |
| Atkinson, Andelson, Loya, Ruud & Romo PLC | Nate Kowalski, Irma Rodriguez Moisa | The Cat's Paw Doctrine: Declawing Summary Judgment |
| Baker & Hostetler LLP | Michael D. Stein | How Structural Claim Limitations Can Save Software Patents |
| Barclay Damon LLP | Robert A. Barrer | Careless Keystrokes and Bad Decisions – New York Law on Inadvertent Disclosure |
| Baron & Budd, P.C. | Scott Summy, John Fiske, Carla Burke Pickrel | Poison in the Well |
| Bowman & Brooke LLP | John Sear, T. Michael Pangburn | Anticipating and Avoiding Expert Deposition Fee Disputes |
| Butler Snow LLP | Kari L. Sutherland | Funding Litigation and Treatment: Leveling the Playing Field or Exploiting the Little Guy |
| DLA Piper LLP (US) | Mike Piazza, Jonathon Haray, Katie Ruffing | Defending Against Insider Trading Claims |
| Freshfields Bruckhaus Deringer LLP | Benito Romano, Lauren Kaplin, Emily Feirman | Cross-Border Overview: Anti-Corruption Enforcement in Latin America |
| Grant & Eisenhofer P.A. | Adam J. Levitt, Nicole E. Negowetti | Agricultural "Market Touching:" Modernizing Trespass to Chattels in Crop Contamination Cases |
| Kelley Drye & Warren LLP | Givonna St. Clair Long, Randall Lehner | Top 11 Strategies for Avoiding Director and Officer Liability for Negligent, Unsafe, and Unsound Lending Practices |
| McGuireWoods LLP | Andrew J. Trask | Litigation Matters: The Curious Case of Tyson Foods v. Bouaphakeo |
| Mitchell, Blackstock, Ivers & Sneddon PLLC | David Ivers | 'Conflict-Free Case Management' On Collision Course with Integrated Care |
| Morvillo, Abramowitz, Grand, Iason & Anello PC | Edward M. Spiro, Judith L. Mogul | A Smaller World, but Personal Jurisdiction Still Matters |
| Paul, Weiss, Rifkind, Wharton & Garrison LLP | Roberto J. Gonzalez, Jessica S. Carey | The Government's Making AML Enforcement Personal |
| Perkins Coie LLP | Laura Zagar, William Malley, Stephanie Regenold | Environmental Streamlining Measures in Title 41 of the FAST Act: What Will They Mean for Infrastructure Project Developers? |
| Pillsbury Winthrop Shaw Pittman LLP | Norman Carlin, Brendan Hennessey | Adapting to Climate Adaptation: Implications & Opportunities for the Private Sector |
| Ropes & Gray LLP | Ryan Rohlfsen, Timothy Farrell, Dante Roldan | The Pilot Program in Practice: A Comparison of Pre- and Post-Program Resolutions |
| Skadden, Arps, Slate, Meagher & Flom LLP | Shana A. Elberg | Using the Bankruptcy Code for International Restructuring |
| Steptoe & Johnson LLP | Jennifer Quinn-Barabanov | The Supreme Court's 2015-2016 Term Marks a Turning Point for Class Actions |
| Stroock & Stroock & Lavan LLP | Joel Cohen, James L. Bernard | The Movie 'Spotlight' and Legal Ethics |
| Sullivan & Cromwell LLP | Melissa Sawyer, Charles T. Dowling | M&A Implications of Corporate Governance and Succession Planning for Family-Controlled Businesses |
| Weil, Gotshal & Manges LLP | David Lender, Eric Hochstadt, Luna Barrington | Lower Courts Continue to Disagree on Concreteness Requirement Post-Spokeo |
| White & Case LLP | Richard Kebrdle, Laura Femino | A Solution For Competing Foreign Insolvency Proceedings |
| WilmerHale | Benjamin Fernandez, Mark Selwyn | Design Patent Post-Grant: Is Anticipation Easier to Prove Than Obviousness? |
THE BURTON AWARDS PROGRAM
The Burton Awards, established in 1999, is funded by the Burton Foundation, a non-profit, academic effort devoted to recognizing and rewarding excellence in the legal profession. The Burton Awards honors the finest accomplishments in law, including writing, reform, public service and interest, regulatory innovation, and lifetime achievements in the profession.
LAW360
Law360, a LexisNexis company, is a trusted provider of breaking legal news and in-depth analysis, with up-to-the-minute, comprehensive coverage of litigation, regulation and enforcement, legislation, administrative proceedings, executive actions, corporate deals, legal industry trends, and more. With a unique blend of cutting-edge technology and journalistic expertise, Law360 delivers the intelligence legal and business professionals at top law firms, Fortune 1000 companies, key government agencies, and many other organizations need to remain experts, mitigate risk, and beat the competition.
LEXISNEXIS® LEGAL & PROFESSIONAL
LexisNexis Legal & Professional is a leading global provider of content and technology solutions that enable professionals in legal, corporate, tax, government, academic and non-profit organizations to make informed decisions and achieve better business outcomes. As a digital pioneer, the company was the first to bring legal and business information online with its Lexis® and Nexis® services. Today, LexisNexis Legal & Professional harnesses leading-edge technology and world-class content to help professionals work in faster, easier and more effective ways. Through close collaboration with its customers, the company ensures organizations can leverage its solutions to reduce risk, improve productivity, increase profitability and grow their business. LexisNexis Legal & Professional, which serves customers in more than 175 countries with 10,000 employees worldwide, is part of RELX Group, a world-leading provider of information and analytics for professional and business customers across industries.
LIBRARY OF CONGRESS
This prominent institution is one of the most celebrated and distinguished libraries in the world. It was established on April 24, 1800, and since that time has grown to become one of the largest repositories in history. The Library of Congress functions as both a national library and as the research arm of the U.S. Congress. It contains more than 32 million catalogued books and more than 62 million manuscripts.
WILLIAM C. BURTON, ESQ.
The Founder and Chair of The Burton Awards for Legal Achievement is William C. Burton, Esq., a partner at the law firm of Sagat|Burton LLP. He is a former New York State Assistant Attorney General, a former New York State Assistant Special Prosecutor, and is the author of the first legal thesaurus ever written for the legal profession, entitled BURTON'S LEGAL THESAURUS. The book is now in its 5th edition and quickly approaching its 35th anniversary. When the book was released, the Association of American Publishers recognized it as "one of the Most Innovative and Creative Projects of the year." In 2011, Mr. Burton was presented the highest honor given by the second largest association of law professors in America, The Legal Writing Institute, for "significantly advancing the cause of legal writing in the profession of law." More recently, he was awarded the "Blackstone Award" by the Friends of the Law Library of Congress, for "embodying and promoting the best ideals of the institution."